Articles | October 10, 2019
Agile software development outsourcing
The realization of IT projects is ever more willingly being handed to external teams which support clients' teams in the context of competences and resources. Such support is increasingly often provided with the use of Agile frameworks, such as Scrum. How does Agile outsourcing boost efficiency in IT outsourcing and which organizational issues does it address?
The realization of IT projects is ever more willingly being handed to external teams which support clients' teams in the context of competences and resources. Such support is increasingly often provided with the use of Agile frameworks, such as Scrum. How does Agile outsourcing boost efficiency in IT outsourcing and which organizational issues does it address?
Agile methodology – good for a start
How do small enterprises start to conquer the market? By courageously using Agile techniques for project management. Newly established companies search for modern solutions, and Scrum, one of the Agile Software Development frameworks, can undoubtedly be considered one of these. Thanks to the willingness to search for new solutions, start-ups compete with huge corporations and key players on the market. The popularity of Scrum is rising. According to annual research on Agile techniques, State of Scrum, more than half of respondents (54%) use this framework in software development project work. When it comes to companies which are new on the market, cutting redundant costs and being profit-oriented thanks to delivering valuable products in a swift manner are the foundation on which everything is built. Agile techniques facilitating frequent verification of the team's work and quick change management address these needs in a number of fields, not only in IT, but also in industry or sales and marketing. Check and experience on our website.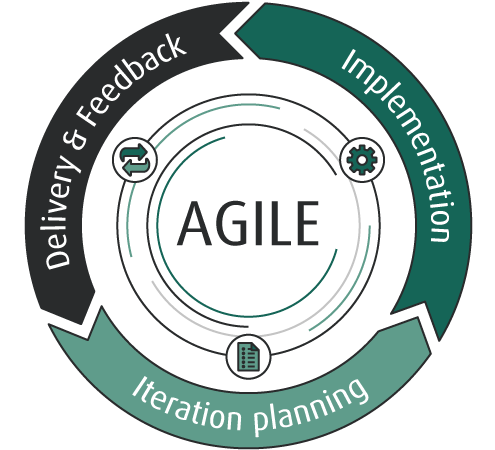 Agile in numbers
According to the same research, 72% of respondents admit that Scrum (or a hybrid version thereof) is one of the most frequently used Agile techniques. Even more respondents (78%) point out that Agile techniques are used when cooperating with remote employees from different locations, and almost as many (68%) when working in a dispersed teams model. One of the main principles of Agile Manifest is putting emphasis on high-quality communication among team members. The tendency captured in the report shows that communication is possible regardless of geographical distance. 46% of respondents use Agile management in projects carried out in an outsourcing model. 
PROJECT MANAGEMENT
How to work effectively with Agile nearshore teams? Get to know the benefits of Agile Nearshore Software development
Read the text to find out more!
Benefits of using Agile
And what about the benefits of using the Agile model? As many as 69% admit that it contributes to better management of changing priorities within an organization. It also has a positive influence on the clarity of the project (65%). In third place (64%) in the ranking of benefits are ex aequo the cooperation between business representatives and the IT department and the increased morale of the team. Right behind them in the rankings is the velocity of product delivery.
Agile revolution
A couple of years ago, when Agile techniques were gaining popularity, the media were speculating as to whether they augured well for a revolution in management. A team without a manager? No roles in the team? Moving away from creating project documentation? It might have caused anxiety, but also… intrigue. And it was intriguing enough to make Scrum one of the most frequently selected frameworks for high-quality project realization. Today we know that the Agile model did not displace traditional management techniques, which continue to be successfully used in the realization of various projects. The Agile idea became an alternative, though, traditional models eagerly derive from its values.  
How about changing the rules of the game?
In earlier times, project realization called for long-term planning and climbing the stairway of forthcoming levels of the project phases – from planning, via implementation and testing, to the post-implementation phase. But over the most recent decades, the approach to project realization has changed, and usually the abovementioned cascade model is replaced by the Agile one.  Such terms as "Story", "Scrum Master", "Product Owner" or " Backlog" no longer sound unfamiliar.
The rules of the game (as per the "Scrum Guide") based on clarity, inspection and adaptation, in other words Scrum's pillars, as well as everyday communication and reacting flexibly to changes in the project, are highly valued both by development teams and business representatives. How to change the rules of the game to Agile ones? Is it necessary to participate in multiple training sessions, become certified and amend the structure of the company? This is where IT outsourcing inwith an Agile model comes in handy. It has proven to be the best solution especially within companies with developed internal structures. 
Agile connects technology and business
Companies with complex internal organization often lack a single, universal methodology for carrying out projects. Usually this is not the case when it comes to technological companies. This results from the fact that developers adapt rather quickly to Agile working methodologies such as Scrum. Some modern companies from outside the technological industry, for whom technological solutions play a key role, strive not to bring about a situation where there are multiple working cultures and different problem-solving methods within one organization.
To avoid this, giants including Facebook, Twitter, Spotify and Google, and ING Bank as well, have decided to make use of Agile techniques in all fields, creating a structure based on interdisciplinary Scrum Teams.
Outsourcing in an Agile model boosts the effectiveness of IT projects
Rising levels of competitive pressure, shortening product lifecycles and changes in business processes determined by technology significantly limit the possibilities of defining the precise scope and aim of IT projects. Due to this, the classic transactional approach, where the client and provider sign a contract for delivering a particular service (be it software or outsourcing services), usually in a fixed-price model, is anachronistic and increasingly hard to use in these conditions. After a couple of months of development work, the original assumptions, included diligently in the contract at the beginning of cooperation, will probably already have become outdated.


Agile outsourcing solves issues with recruiting IT specialists
Agile management allows companies to address the challenges of the market. Short Sprints and Iterations, finished every time by delivering the working software and verifying if it meets the customer's requirements, minimizes the risk of failing to meet the project requirements. Thanks to the Agile approach, changes to the project are included in the service delivery process and they do not disrupt the organization of work, which is a common issue in the traditional waterfall model. Agile methods break down barriers in corporate culture, making cooperation between organizations easier and more effective. 
Agile-oriented IT outsourcing facilitates service scalability – the client can flexibly adjust the number of employees according to actual needs and required competences. It is a significant difference, since in the classic approach the time needed to recruit a new IT specialist (from the need to recruit, via onboarding, to the employee becoming a productive member of the team) is very long – an additional risk of failure.
Agile service delivery model guarantees cost flexibility – this has traditionally been one of the main arguments in favor of the service. Currently the price aspect is less frequently disputed by managers. IT outsourcing is considered the best way of providing organizations with innovative technologies and solutions, which emerge in start-ups and among individual enthusiasts of modern technologies.
Outsourcing in the Agile model
People and interactions over processes and tools.
The Agile version of outsourcing stresses the role of transparent communication, as cooperation in this model calls for a high level of mutual trust. Outsourced employees delegated to the client want to be self-reliant, their ideas to be respected and to have a say in the decision-making processes. The client, though, expects professional service, effects and the fulfillment of his business needs. Both employee and client requirements complement each other, but only open and swift cooperation guarantees that they will not clash during the project.
Effects over documentation
The aim of outsourcing services is to deliver particular business benefits. Creating thorough documentation is of course relevant from the project perspective, but it will never be more relevant than delivering functioning solutions, resolving occurring issues or adjusting the project to changing needs. 
Cooperation over detailed contracts
Instead of creating contracts based on lists of detailed requirements, it is better to ask the outsourcing partner for the suggested means of product delivery and negotiate contract conditions afterwards. This is a very good starting point for creating a contract in Agile outsourcing, which should not be considered as a rigid plan for project realization. A well-designed outsourcing contract will allow both parties to act in a flexible manner, assuring business deals between both interested parties on a basic level.
Read also: Effective communication in IT outsourcing
Agile development outsourcing – how to start?
n the case of organizations which do not have previous experience working in Agile methodology, it is worth considering the small steps strategy – otherwise the Agile approach may bring about some resistance on the part of employees.
Team outsourcing might be a suitable measure in the above situation (outsourcing in the team extension model), allowing an organization to hire an employee who has experience in Agile methodology. Such a person will complement client's existing team of in-house IT specialists and facilitate step-by-step adaptation to the new organizational culture.  The number of outsourced employees can then be adjusted to the client's needs. Their joining the client's team will result in increased knowledge, experience as well as the ability to work using Agile logic and incremental preparation for project cooperation with employees of external companies.
Summary
In the article I aimed to present the most important benefits of IT outsourcing in the Agile way. Increased efficiency, better communication between the client and project team, as well as addressing recruitment issues are relevant for both parties. Additionally, the research I mentioned confirms the rising popularity of Agile methods. Why not change the rules of the game, the prize of which may be as priceless as the experience obtained and as tangible as income earned?
---